Experience No Boundaries
Transforming Contract Manufacturing
Through Advanced Technology
Experience No Boundaries
Transforming Contract Manufacturing
Through Advanced Technology
As contract manufacturers, we'll produce your component or assembly at any quantity with speed, quality and integrity. As engineers, we'll act as an extension of your team to develop validation processes, test products and design for manufacturability. As problem solvers, we'll collaborate and innovate to answer your toughest challenges, anticipate your future needs—and stop at nothing to create your competitive edge.
For decades, we've manufactured the highest quality medical and aerospace components and assemblies. Our team of engineers, machine technicians, quality experts and material planning professionals work inside a world-class facility. Quality and innovation are at the core of everything we do.
Innovation is at the heart of our mission. If you have a problem, we will work to solve it. With a strong portfolio of intellectual property, all the technology we create starts as a solution to a customer problem.
Our capabilities include design assistance and concept development, prototyping, testing and characterization, documentation, verification and validation, manufacturing process development and production transfer.
HIERARCHICAL SURFACE RESTRUCTURING FOR ELECTRODES AND MICROELECTRODE ARRAYS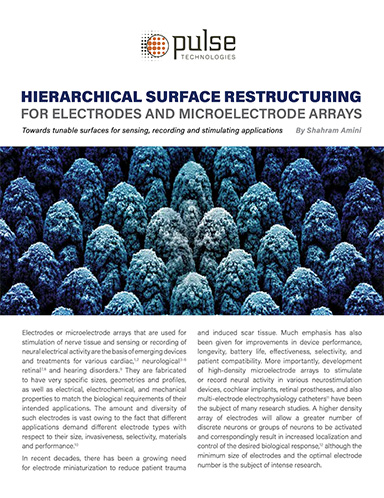 Towards tunable surfaces for sensing, recording and stimulating applications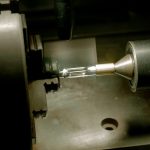 A Deep Dive Into Our Laser Cutting and Texturing Capabilities
March 5, 2021
-
Advancements in medical technology are leading to smaller, less-invasive instruments with reduced feature sizes and complex geometries. In many cases, these delicate or sophisticated parts… Read more »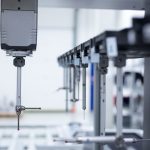 Enhancing Quality Control With New Metrology Equipment and Real-Time SPC
February 24, 2021
-
We're excited to announce we've made significant enhancements to our quality control processes in the past year, reducing our internal part rejections by over 50… Read more »
© 2021 Pulse Technologies, Inc. All rights reserved.